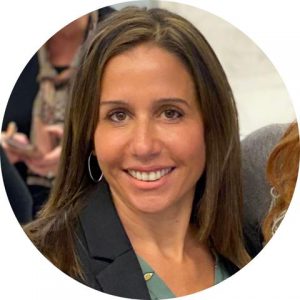 Uplifting students and their families about what they can do, and helping foster strong communities that people can rely on, is what educator—and now assistant principal (!)—Dana Manna holds dear.
For the past 18 years, Dana Manna has worked in the field of special education in the New York City Department of Education as both a classroom teacher and in such roles as Sub-Committee on Special Education chairperson, Individualized Education Program (IEP) coordinator and Related Services coordinator. Manna is also a certified Literacy Specialist and School Building Leader.
Recently, Manna took the formal leap into administration, as the new Assistant Principal of Rockland BOCES' Jesse J. Kaplan School and its Visual Instruction and Structured Teaching for Students with Autism and Learning Challenges (VISTA) program.
Connect with Dana Manna on LinkedIn.
Who has helped elevate you as a leader?
"During my career there were three people in particular who I got the best education from: Principal Rima Ritholtz, and Assistant Principals Erica Faccilonga and Elena Talamo-Mirabal. Elena was the one who taught me how to be a teacher. Rima encouraged me to become a leader and Erica helped foster me as a leader. Rima was the one who knew I'd be a leader one day and pushed me to try. She gave me a position as Unit Coordinator, even when I was a young mother with two crying children at home and going back to school or being in administration was the last thing I could imagine myself doing!"
"When I got the position of Assistant Principal with Rockland BOCES, I texted all of these women to let them know the impact their words and actions had for me. Because of what they've done for me, I have been able to walk into this new position knowing that I can do it."
In your new role, how do you hope to elevate others?
"I feel like so many people in education now are more down—so I try to treat everyone with a little TLC." When she is meeting with students and their families, with the school's professional learning groups, or one-on-one with a new teacher who may be questioning whether education is their path, Manna remembers the encouragement she received along the way and offers this for others, too.
Put some play in your day
Manna said she works to make her office a calming space, and keeps it stocked with sensory "toys" such as fidget spinners and stress balls, which get handed around so everyone can de-stress as they are talking about what's on their minds. And, as she is making the rounds getting to know the teachers and staff in her buildings, Manna makes sure to have a little fun—she recently spent time shooting hoops at a classroom hoop-a-thon—and model that for her team, too.
What are you reading/listening to that might be inspiring you as a leader?
The Leverage Leadership 2.0: The Better Leaders Better Schools Podcast with Daniel Bauer and The Empowered Principal™ Podcast with Angela Kelly Robeck.
"I also listen to things in Italian, just so I remember the language!"
What's top of mind for you now/in your heart?
Manna said that during her k-12 school days, there were not many people who let her know that she had potential. "I don't believe my parents ever interacted with an educator who offered encouragement about what I might be capable of." This has made Manna resolute about being an educator who helps uplift students and their families about what they can do, and about helping foster strong communities that people can rely on. Too, it has made all she's accomplished as an educator even more meaningful.
"That I did it [have made it to this position as an administrator]—it never gets old saying this! For me, my community and the support they have given me to get to this point—that's what's in my heart now."
Why NYSAWA?
Recently Manna became a new NYSAWA member and hopes to encourage others from the Rockland BOCES administrative team to do the same.
"I am very excited to meet this growing community and learn from their experiences. To me, the networking and professional learning aspects of what NYSAWA has to offer are so appealing."
About Our Member Monday Series
Our Member Monday series highlights those in our growing membership and their many career accomplishments—giving us all a chance to get to know one another better.
Want to "tap a leader" for this series or be featured, yourself? Reach out to us at nysawa@nysawa.org.