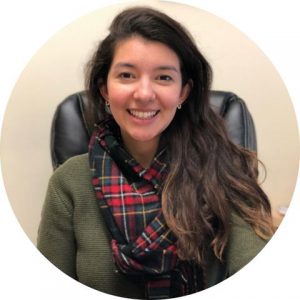 Whatever the situation, Assistant Principal Diane Fox says leading with one's heart—particularly when it comes to middle schoolers and their families—is always the way to go.
Since 2014, Diane Fox has been working as an educator with Hampton Bays Union Free School District on Long Island—as a bilingual high school social studies teacher and, for the past seven years, as the supervisor of bilingual and alternate education and, now, as the Assistant Principal of Hampton Bays Middle School. In 2022, Fox was named the NYS Assistant Principal of the Year by the National Association of Secondary School Principals (NASSP) / School Administrators Association of New York State (SAANYS). She has been a member of the NYSAWA Long Island Chapter since 2018. Follow Diane Fox on Twitter at @MrsDianeFox
What's at the heart of your leadership approach?
Fox says you never know what you are going to get, moment to moment, when working with middle schoolers and their families. This can sometimes lead to making quick decisions as a leader or ones that aren't based on all the important facts. "I've learned it isn't always about giving people a quick response." 
Fox believes in the importance of taking some time to ask for more information, to be a bit reflective and to foster good relationships: "It's really important to get to know your teachers, to get to know your students and their families, and, regardless of the circumstances, be always asking 'How can I help you?' and 'What can I learn from you?'" 
What are you reading (or listening to!) that's enhancing your leadership learning and approaches?
"It's usually a professional journal… or a cookbook. I read for pleasure, too!" Recently, Fox co-led a book study with the district's administration and teachers at all levels around the books Culturally Responsive Teaching and The Brain by Zaretta L. Hammond and Despite the Best Intentions by Amanda E. Lewis and John B. Diamond. "We want to be sure every student has a path to success. We believe we are doing really well in Hampton Bays district in this regard, but we know it is important to think about what our approaches and policies look like in actual practice and how we can always be doing better."
How has being part of NYSAWA supported you—professionally, personally or both?
"The NYSAWA Long Island Chapter has been such a support system—I have met a lot of other wonderful women in leadership and have the opportunity to develop professional relationships with them and learn from them. It has been so nice to be part of something where women are celebrating one another."
"We are seeing more women taking on leadership roles—I believe it is because of organizations like NYSAWA that are supportive and encouraging, and that 'push you a little bit' to take a next step, whatever that might be for you."
Advice for other women in educational leadership?
"Working in education can be difficult—there is always going to be someone who needs something from you. It is really important to take care of yourself—to nourish yourself, to take some time to think, to not be doing something every minute. When you do this for yourself, you are modeling that kind of self-care for your teachers, too."
Fox also encourages women, whatever their professional role or aspirations, to be willing to put themselves out there in terms of sharing their ideas "from whatever table you are sitting at."
"These are opportunities to shine!"
Fox says that people will also remember you for your willingness to step up—and as a person they might call on to contribute to other meaningful work (including roles in leadership) down the road.
About Our New Member Monday Series
Our new Member Monday series will highlight those in our growing membership and their many career accomplishments—giving us all a chance to get to know one another better.
Want to "tap a leader" for this series or be featured, yourself? Reach out to us at nysawa@nysawa.org.