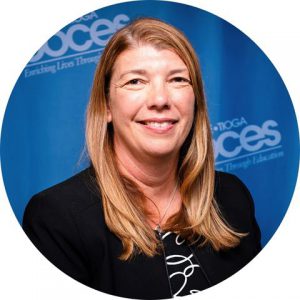 Helping expand the concept of what it means to be a leader in education—and help individuals step confidently into those roles—is top of mind for Broome-Tioga BOCES' District Superintendent Rebecca Stone.
This August, educator Rebecca Stone took the helm of Broome-Tioga BOCES as its new district superintendent. Prior to joining the BOCES, Stone served for more than a decade as superintendent of schools at Marathon Central School District. She has also served as an elementary principal at South Jefferson Central School and as a science teacher in Salt Lake City, Utah, and Winston-Salem, North Carolina.
Connect with Rebecca Stone on Linkedin. 
What does it mean to be a leader in education?
"When it comes to women in education, many have chosen this work and profession because it prioritizes serving the greater good. Teaching is a profession where we are responsible for others and is a form of 'servant leadership' that wasn't formally recognized for a long time," Stone said.
"I think there are many different kinds of leaders, and you can be a leader in any role or at any level you find yourself."
Where are you putting your energies as a leader in the field of education?
Stone said the challenge of recruiting and retaining teachers and support staff, along with finding ways to diversify teaching and leadership teams are top-of-mind for her—and for many other educators in the Southern Tier and beyond.
Stone believes diversifying the teaching profession will help students say "I see me" more often in their teachers and school leaders, help enrich teaching teams and school culture, and offer a more diverse set of individuals to tap and nurture into leadership roles.
"One of my goals is to help 'grow' diverse leaders, to take anyone who has a desire to be a leader and help them step to that place," said Stone. To accomplish this, though, Stone says dedicated efforts need to be made to "deepen the pool of individuals to draw on, to uplift, help them see farther and get to where they want to go."  
What are you reading/listening to that may be influencing your leadership?
"I am currently working on my doctorate in executive leadership at St. John Fisher University and a book that has come back around to me through this work is The Speed of Trust by Steven Covey. The premise of this book is that you can't be a good leader without building relationships. I believe this is true."
Why NYSAWA?
Stone said one of the most significant impacts NYSAWA has had is to help raise her awareness about the barriers to leadership that exist for many women.
"After joining the organization about four years ago, I started to notice the nuances—the number of women who were 'at the table' and the number of women who were leaving the table, too. What NYSAWA has done more than anything is get me to notice, and to ask more questions and seek more answers about the barriers that may be in place and the reasons there aren't more women represented in leadership."
Stone said NYSAWA also offers the essential support women need from other women leaders who can "straighten our crowns" and uplift one another.
"One of the pieces I really appreciate about the women in NYSAWA is their leadership and passion toward helping people, in general, but women specifically. They recognize that there is a lift that needs to happen so that we can have—and keep—more women in leadership roles."
About Our Member Monday Series
Our monthly Member Monday series highlights those in our growing membership and their many career accomplishments—giving us all a chance to get to know one another better.
Want to "tap a leader" for this series or be featured, yourself? Reach out to us at nysawa@nysawa.org.