On July 12-13, NYSAWA hosted its annual statewide conference in-person for the first time in over two years. Leaders and educators from across New York state gathered in Albany to network with fellow educators, hear from renowned female leaders Maggie Chan Jones and Dr. Julia Rafal-Baer and learn more about how they can take their leadership to the next level.
Chan Jones, founder of Tenshey Inc. and author of Decoding Sponsorship, shed light on the power of sponsorship and how these relationships can help budding leaders reach their fullest potential.
Rafal-Baer, Managing Partner and Co-Founder of ILO Group, shared recent data on women in educational leadership and tips for women-leaders to leverage their networks to lift up and promote more women into these roles.
Attendees also had a chance to put these talks into practice by networking and exchanging business cards with one another. This provided an opportunity to become acquainted with educators from across the state.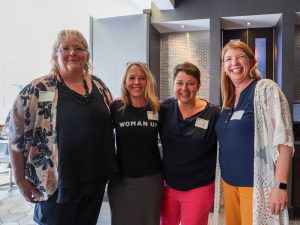 "When we come together, we can do anything. I am so grateful to lead such a dedicated and talented group of leaders. I look forward to watching our members and organization grow, and for more opportunities for everyone to come together," said NYSAWA Chair Kristine Orr.
NYSAWA is a collective of professionals in all levels of education in New York state with a goal of fostering and promoting leadership and positioning its members for personal and professional success. NYSAWA hosts statewide events twice a year, and local affiliates host up to three per year. While all are welcome to attend NYSAWA events, members receive a discount.
To learn more about becoming a member, click here. Keep on the lookout this summer for open enrollment for the 2022-2023 year.