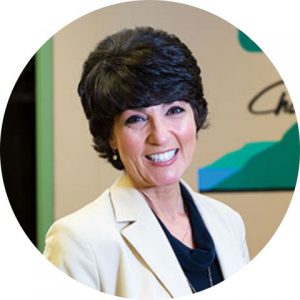 "None of us came to this fully formed and there is so much we can learn from hearing each other's stories." — Michele Friedman, director, Champlain Valley Educational Services (CVES) Career & Technical Education
March is Women in the Trades Month—a great time to celebrate the accomplishments of the women forging a path in the skilled trades, as well as those who support them along the way.
As the Director of Career & Technical Education for Champlain Valley Educational Services (CVES, CEWW BOCES) and having worked for most of her own career in career and technical education settings, Michele Friedman is one of its biggest fans and supporters. 
Connect with Michele Friedman at LinkedIn.
A passion for the skilled trades
After graduating from SUNY Plattsburgh with a degree in education, Michele decided to lay down roots in the area she'd fallen in love with. She couldn't, however, find her way to a teaching position.
"I was an 'outsider' and the area was just saturated with others with teaching degrees," she explained.
A chance encounter with the, then, director of Career and Technical Education at CVES put Michele on the unexpected path to BOCES service. Before taking a job as a substitute teacher in the CVES career and technical center, Michele hadn't known much about BOCES. Once there, she became one of its strongest supporters.
"I was working with 16-, 17-, 18-year-olds who knew where they were heading and were working on career paths I didn't know existed and had never been offered," Michele recalled. "This started a fire in me that made me want to know more and more about this type of education and introduce career and technical education to whomever would listen to me!"
Bucking stereotypes/building supports
"I am the first female director of career and technical education for this BOCES—this is in the forefront of my thinking all of the time. I know there are many eyes on me, watching what I do and the decisions I make," Michele said.
While a champion for all students, Michele knows that women have been and remain underrepresented in many of the skilled trades. Along with expanding people's knowledge, generally, of the many career paths available through career and technical education, Michele is particularly inspired to help more young women find their way in traditionally male-dominated pursuits.
"Recently, we began hosting small convenings for the few young women learning at our BOCES in the trades where women have been traditionally underrepresented," Michele said. "We have such authentic, powerful conversations. We talk about what and who inspired them on this path and the barriers that exist for them, such as others' perceptions. We also talk about how they might uplift and inspire other young women to follow their interests in the skilled trades."
Who has inspired you to lead?
"When we talk about the people who inspire us and who set the bar high for us, hands down this was my mother, Nancy," Michele said. "She was a single mom and a licensed cosmetologist who was raising three young girls while running her own business with grace and fierceness. We are the product of watching her be successful in a man's world. Her resilience and her drive to achieve was and is an example to us."
"Too, the young women who have and continue to learn in our programs inspire me. I continually remind them that they are each other's colleagues and that they need to look out for one another, not compete with each other," she added.
What's top of mind for you/in your heart?
"How can we get back to the basis of why we learn? It isn't all about the career, it is also about the quest to learn because it sets your soul on fire. It is about being brave enough to do what you, not others, believe you are supposed to do," said Michele.
"Along with this, making sure our schools are sanctuaries where individuals can be who they are, are accepted for who they are and feel as though they belong. Schools need to be places where students can succeed and, if they fail, fail with dignity knowing there are many hands to help them back up. This is our mission as educators. If it isn't what we are doing, we probably don't have our priorities right."
What are you reading/listening to that inspires you and your leadership?
"Dare to Lead by Brene Brown is something that is on constant repeat for me. No matter how many times I have read it or heard it, there are always good and timely lessons to learn."
"Personal & Authentic: Designing Learning Experiences That Impact a Lifetime by Thomas C. Murray. This gets to the point of how we can create learning spaces where students feel they truly belong… and how we can operationalize this."
"Wolfpack: How to Come Together, Unleash Our Power and Change the Game by Abby Wambach. This is a really quick read and there are so many moments in this when I say to myself 'Oh, yes!'
Why NYSAWA?
"It matters that we own and celebrate our successes and uplift the accomplishments of other women. So many of us are taught not to shine too bright. We are all so good at calibrating outward, but we also need to calibrate inward—to remember and celebrate our own accomplishments and the good work we do, too." Michele said the people she continues to meet through NYSAWA help center both of these important goals.
As a member of the new North Country affiliate, Michele also appreciates hearing about others' experiences and learning from their stories. "None of us came to this fully formed and there is so much we can learn from hearing each other's stories. The more you hear, the better."
About Our Member Monday Series
Our monthly Member Monday series highlights those in our growing membership and their many career accomplishments—giving us all a chance to get to know one another better.
Want to "tap a leader" for this series or be featured, yourself? Reach out to us at nysawa@nysawa.org.