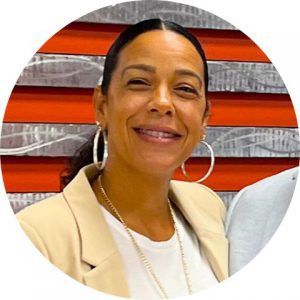 "Never count a scholar out" is a phrase that tops Shelette Pleat's Twitter bio—and is the North Star guiding her leadership.
Shelette Pleat joined Capital Region BOCES Career & Technical Education Center (CTE) as principal of its Albany Campus in 2020. Previously, Shelette served as the early literacy coordinator for the Schenectady City Schools, and as principal in the Albany City and Salem Central school districts. Shelette got her start in education as an elementary education teacher, first in Troy and later in Albany.
Connect with Shelette on Twitter @SheletteRPleat and at LinkedIn .
How do you use your influence as a leader to uplift others?
"I didn't graduate from my high school. I graduated with my GED. Once I graduated, no one came looking for me to offer options for my future," said Shelette. As a school leader, she aims to change this for others. 
Shelette and her Capital Region BOCES colleagues have made recruiting learners of all types a priority—particularly young women interested in gaining the skills and knowledge for a career in the skilled trades.
"There are still a lot of misperceptions that surround career and technical education, particularly about who it is designed for and what a CTE scholar 'looks like'," said Shelette.
"Some scholars get to learn about what we have to offer [from friends who learn here, family who may have attended, school district counselors], while others just don't. I am trying to change who we reach with the message about career and technical education, and to fight the perceptions some people still have about who can be a CTE scholar."
Women as leaders in the skilled trades
Women continue to be underrepresented in the skilled trades and in leadership of educational settings that oversee and offer these career pathways, but Shelette is seeing this change.
"At our own CTE center, in the leadership of our partner organizations such as SkillsUSA and the Capital Region Chamber and with our business partners, women have been making inroads and are providing thoughtful and creative leadership. Together, we are providing role models for the younger women who are learning at CTE or may see themselves in the skilled trades."
Given this, do you consider yourself a trailblazer as a leader in career and technical education?
"As a woman and as a woman of color? Yes, and yes," said Shelette.
"I am so grateful for our BOCES leadership who trust my judgment and trust me as a leader to do what's best for this campus and our scholars. I get to be me and that is empowering."
Steel-toed boots or stilettos—seriously?!
"I'm a person who is going to put it out there, particularly if I disagree with a perception someone is holding or the limits they may be putting on access to learning or my ability to do my job," said Shelette.
"When I started at CTE, some were quick to tell me how I should dress as principal," Shelette continued. "I love my stilettos, but also know how and when to be safe. So, I wear Timberlands and high heels, depending on the situation."
"Of course, safety is essential on our campus. But I don't want my scholars—particularly the young ladies—to think that they have to look a certain way to learn here or to make their mark in the career they are pursuing."
"Our goal is to be a welcoming and affirming campus but I can't just say that, I need to embody that as a leader. I am a big believer in modeling the expectations we have."
Leaders should be seen and heard
"I believe leaders should be seen and accessible—not sitting behind desks or tucked away in their offices," said Shelette.
Recently, the Career & Technical Education scholars retrofitted a large steel toolkit into a mobile desk so Shelette can set up shop in different locations throughout the school.
"How am I going to get a pulse on what is happening on campus and for the scholars if I am sitting in my office? Being out and about allows me to be responsive if we have a scholar in crisis or a teacher with a question or who needs support. To be more restorative instead of punitive."
"This helps me be seen."
What's top of mind for you/in your heart?
"Family and health—these two things are related and they have to come first," said Shelette.
"From my own experience with leadership, I know the balance between work and home can get so out of whack. When we have balance—are taking care of and being present for the people and things that matter at home and in our families—then we are also able to be more present for our work and give it our all when we are in it."
Finding work/life balance is a frequent theme in the conversations and communications Shelette has with the teachers and staff on the Albany campus and something she tries to live by—again modeling what she espouses.
"It's the teacher in me! I want them to know that these are the things that always matter first."
Why NYSAWA?
"There is power in numbers," said Shelette, who is both a NYSAWA member and active participant with its Capital Region affiliate. "Navigating leadership alone can be a challenge. As women in leadership, we need to have a circle of support."
"NYSAWA offers a resource where you can find people you can trust, who have similar leadership styles and you can connect with and learn along with. It also gives me the ability to mentor others and to network—I love to network!" 
"One day, I want to be a superintendent, so it is great to have people who can help me understand the good, the bad and the ugly of leadership!"
About Our Member Monday Series
Our monthly Member Monday series highlights those in our growing membership and their many career accomplishments—giving us all a chance to get to know one another better.
Want to "tap a leader" for this series or be featured, yourself? Reach out to us at nysawa@nysawa.org.