Nearly 200 attendees tuned into our second annual NYSAWA Celebrates Phenomenal Women virtual event on Wednesday, Feb. 8. Participants heard from women leaders Sujata Chaudhry, founder of Tangible Development; Nerlande Anselme, Assistant Superintendent of Rush-Henrietta Central School District; Dr. Monique Darrisaw-Akil, Superintendent of Uniondale Union Free School District; and Anita Murphy, District Superintendent of Capital Region BOCES.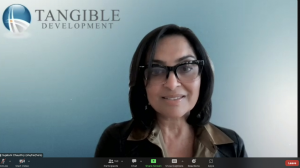 Chaudhry opened the event with her keynote address, titled "Perfectly Imperfect," in which she reminded the audience the value of embracing your differences and that 'imperfect' is not synonymous with 'not good enough.'
"I thought my perfect imperfections were the reason I wasn't ready for the world, but really, my perfect imperfections were the reason the world wasn't ready for me," said Chaudhry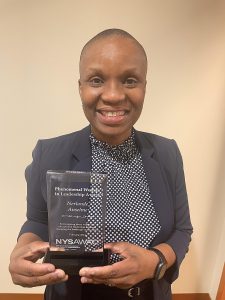 Anselme followed with, "You Don't Walk This Road Alone," which delved into the personal and professional support she received from others during her leadership journey, and how as an education leader, she has been able to help others along their paths.
"It is because of people who walked alongside me that I am able to make an impact. Even now, I don't walk this road alone. I couldn't do what I have been able to accomplish without the continued support of my colleagues who I work with everyday at Rush-Henrietta," said Anselme.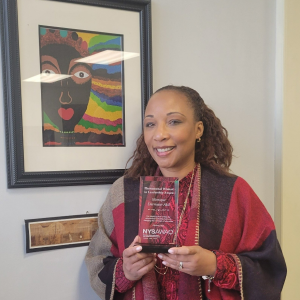 Dr. Darrisaw-Akil presented "Women Leading Outside the Lines: How to Lead Boldly, Authentically and Unapologetically," which encouraged attendees to lead with passion and authenticity, bringing your whole self to the table.
"If you are not bringing your whole self to work, you are denying people who look up to you the opportunity to see what a person like you can do," said Darrisaw-Akil.
To end the presentations, Murphy discussed the importance of "Agitating the System," which encourages people to take advocacy to a new level, personally and professionally.
"Advocacy is great – the act of supporting a cause – it's easy…but when you agitate, on a professional level, on a personal level and on a public level – that is how we're going to get there, everybody. That's what matters, that's what we have to do," said Murphy.
To unpack the evening, attendees participated in breakout sessions, led by NYSAWA board members, on the issues discussed in the presentations. In these intimate sessions, leaders were able to connect with other professionals from all over the state.
Feeling inspired? Become a member to keep up the momentum
NYSAWA is a collective of professionals in all levels of education in New York state with a goal of fostering and promoting leadership and positioning its members for personal and professional success. NYSAWA hosts statewide events twice a year, and local affiliates host up to three per year.
While all are welcome to attend NYSAWA events, like Phenomenal Women, members receive admission at a discounted rate. Learn more about joining NYSAWA, today.